Overview
The Control4 Home Automation system can control nearly all aspects of a customer's smart home. With the Water Agent, water solutions can now be integrated into Control4 as well! The Water Agent is designed to streamline water installations. The driver includes automatic water sensor alerts and shut off water valves.  

Features
Supports Cinegration Trial and Showroom license
Works with any contact closure water sensor

Dammit/C&S Water sensors
DSC
Card Access

Water/Leak detection and reporting to customer
Monitors 'is flowing' state if available on water device (email: drivers@cinegration.com)
Automatic email, push, touchscreen popup and voice alerts (voice alerts using the Cinegration Voice Agent)
No dealer programming required
Works with History Agent
Water Agent will be shown on the Security Page:
 
Normal State
Leak State
Flowing


Pipe

Icon

 
 
 

Water Droplet

Icon

 
Driver Options/Properties:
Single/Double Tap Options

Display Status -> Will pop up a status report including history on Control4 touchscreens

Toggle Water Valve -> Will turn water on or off (if valve connected)

Turn Water On or Off -> Will turn valve on or off

Notify Actions (these are the actions that can be programmed when one of these events happen)

LEAK, NORMAL, OFFLINE, FLOWING, ALERT, WATER_OFF

Notify Email -> Send email for this event (Yes/No)

Notify Push -> Send Push notification with this alert level to connected MyHome devices (Alarm/Alert/Info/No)

Notify Navigators -> Popup Control4 touchsreens and GUI's with event data (Yes/No)

Notify VoiceAlert -> Create automatic voice alert on Control4 T3 touchscreens or speakers in home using Voice Agent Driver

Notify WaterValve -> Turn water on/off when this event happens
Requirements
This driver is compatible with Control4 2.9.1 or higher and requires water sensors and/or water valve control.
FAQ
What does this driver do? 
The Water Agent handles all notifications and actions for water/leak detection in the home. The driver uses standard water-integrated devices (C&S, Card Access etc.).
What hardware do I need? 
Water/Leak dectors that use a standard connection binding in Control4
Standard Control4/Card Access water detectors
Security integrated water detectors (if using a security system integrated with Control4)
Normally, I make a sensor driver for each water sensor and do custom programming when leak is detected.  Is this still required? 
No! This driver handles all the intgeratation a dealer would normally need to do. Custom programming is still available on the driver!
How do I change the icons on the Control4 GUI?
Icons can be changes by using the Icon Style drop-down in properties. The best icon for the application can be selected from the drop-down.
What if I have multiple water valves at one home?
No problem! Just install one driver per water valve. You can link the water sensors to multiple water shut off valves.
How do the alerts work?
Cinegration has developed a multi-alert system. Customers can be alerted via Control4 Push Notification, Email, or Text Message.
To send a Push Notification, the customer will need to inlcude their phone in the Alert Level warning of Security: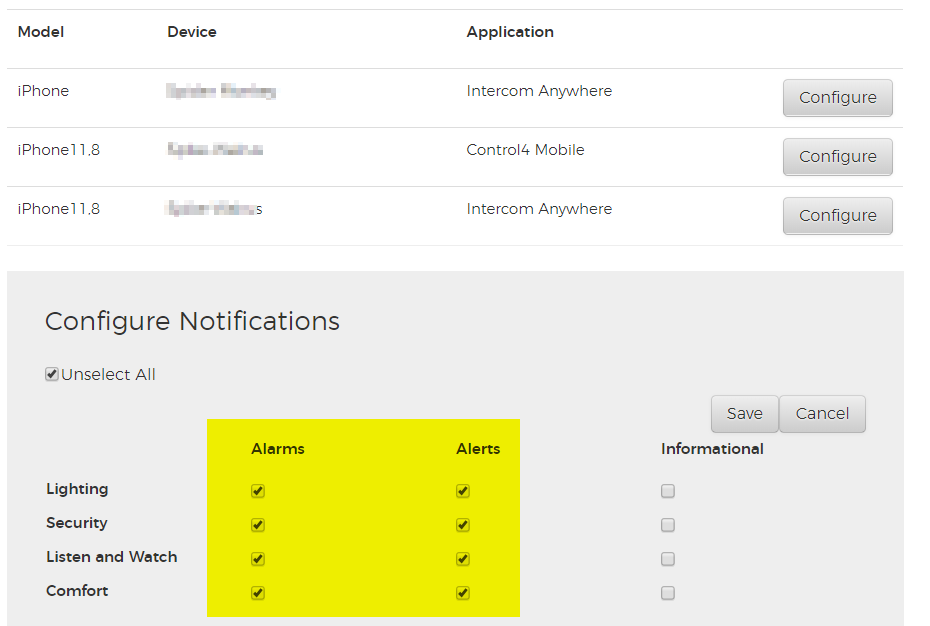 To send an Email, the dealer will enter the email address (or multiples using a ; delimited list). 
To send a Text, enter the customer's phone number in the Email section followed by the correct carrier domain. 


AT&T: number@txt.att.net (SMS), number@mms.att.net (MMS)
T-Mobile: number@tmomail.net (SMS

 

& MMS)
Verizon: number@vtext.com (SMS)

NOTE: Verizon does not allow sending MMS via this method with our email service. Only SMS (no picture) alerts are allowed.

Sprint: number@messaging.sprintpcs.com (SMS), number@pm.sprint.com (MMS)

Where can I get support if I have an issue?
If you have questions or issues with the driver or integration, please go to https://help.drivercentral.io and submit a ticket.
Do you offer showroom discounts? 
All Cinegration Development drivers support the DriverCentral showroom project.
Can I try this driver out before buying it?
All Cinegration Development drivers for Control4 come with a 7-day trial. Simply add the DriverCentral licensing driver along with this driver and you can fully test the driver before purchasing. 
Driver is provided by Cinegration Development LLC.  All rights reserved.
Water Agent
Control4 Version:  2.9.1, 2.10.x
Compatible Hardware: General Water sensor and water valve driver
Driver Features:
Integrate Water Solutions quickly into Control4
Unlimited Water Sensor inputs

Card Access
DSC (using Cinegration DSC Driver)
Dammit/C&S Water Sensors and Water Shut off Valve

Note: Dammit water sensors require clearing of alarm when triggered.  The driver handles this automatically!

Works with any relay-controlled water valve (optional)
Automatic Email, Push, Touchscreen Popup, and Voice Alerts (using Voice Agent)
Does not require 4Sight (if using Email)
Create popup notification on Control4 touchscreens including camera image automatically
Single and Double tap options from MyHome or Control4 touchscreens
Setup:
Add driver to project
Make Bindings to Water Valve and Water Sensors
Set LEAK actions including text or email notification.

These email address can be text messages using proper MMS email address
Warranty:
      Cinegration strives to provide fully working drivers without defects.  However, changes and bugs may be found.  Because of this, any bug/maintenance update to this driver will be free of charge. However, due to the ever-changing nature of computer and audio/video systems, if a new version of the Control4® software creates issues with this driver, or feature enhancements, an upgrade version will be provided for an additional expense or free as determined by Cinegration.
1003 (6.2019)

Updates for 3.0
Added simulate Leak Alarm

1002 (2.21.2019)

Added support for system without valves.  In this case, Water Shut off is not available, but notifications will still work

1000 (1/29/2019)