Overview
The Control4 Home Automation system can control nearly all aspects of a customer's smart home. With the Garage Agent with Liftmaster driver, customers can control Liftmaster myQ doors and Motors with ease in Control4! Integrating LiftMaster garage doors intro Control4 is now a simple, streamlined process. This driver does not require a site visit for integration, making installation even easier!
ListMaster garage doors can be controlled with the press of a button via the Control4 platform or a customer's smartphone. Dealers have the ability to program the driver to automatically send notifications when the garage door has been left open or failed to close based on the customer's preferences. New icons visually communicate the state of any LiftMaster garage door – ex: opening, open, closing, closed, etc. The driver even contains a variety of garage door types to best fit your customer's home. Choose from a graphic-style garage, a lifelike home garage, a modern home garage, gates, etc.
Features
Single Driver installation for each door
Enhances the garage experience in Control4
Works with

MyQ Security+ 2.0 garage door openers

Moving Up/Down States and Icons
Disable/Enable control of garage door
Works with History Agent
Customize the icon with optional Icon Styles!
Automatic alerts (email/text or Push Notification)

Garage Left Open
Garage Failed to Close

Customizable Icons (see documentation)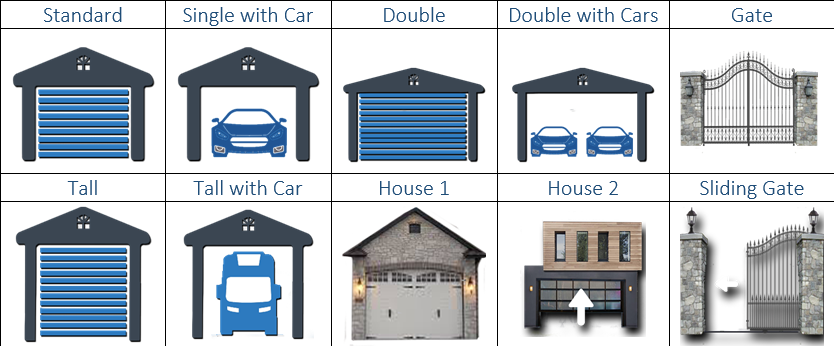 Requirements
This driver is compatible with Control4 2.9.1 or higher. A strong network connection is required to effectively utilize this driver. You must have LiftMaster MyQ hardware.
FAQ
What does this driver control? 
This driver allows a dealer to fully integrate LiftMaster doors and motors with ease.  
How is this unit controlled?
This unit is controlled via a cloud server. 
What hardware do I need? 
You will need to have myQ Doors or motors and a myQ bridge or Hub.
Note: some garage doors have a hub built into the unit. These doors only need wifi!
Do I need to add a Garage Door Sensor Driver in Control4? 
No, this driver will give customers a better garage door experience directly from the security tab!
Do I need to add Garage Door Sensor hardware?
While it is not required, adding garage door sensor hardware is highly recommended.

Can I use my own door sensor to control the myQ relay?
Absolutely! You can either use MyQ or your own contact sensor. When installing the driver, bind the contact sensor you want to use to the driver in the Contact Device dropdown and the driver will automatically use the contact sensor for the door state. If you remove the sensor, and the driver will revert to using the myQ sensor.
Note: It is not recommended to use the MyQ app for door state as it can go offline from time to time and there is a delay (5 minute polling timer) that is imposed by Liftmaster. This means that if the door is opened outside of the garage agent driver there could be up to a 5 minute delay when the driver updates and the status changes on control4 after getting the information back from liftmaster. Instead we recommend using a contact, or a tilt sensor to find and report the state of the door. This will provide instant feedback of the door state no matter how it is operated.
What if I only want the garage door to close when I press the icon?
Choose the 'single tap' or 'double tap' action and select 'only close'.
How do I disable the driver when people are renting my home?
You can either choose the 'double tap' action and select 'Toggle Door Control' or create an IF/THEN setting while programming the driver and select IF (insert scenario here), THEN 'Disable Garage Control.'
How do I change the icons on the Control4 GUI? 
Use the Icon Style drop-down in properties and select the best icon for the door.
Can you make different icons? 
Sure! If you want to have a custom icon loaded in, please email: drivers@cinegration.com. We can create custom icons that look like the customers' specific garage door. For this, please send a picture of the garage door closed and open. Otherwise, please include a description of how you would like the icon to look. We can load it into the driver for you for a fee.
What if I have multiple doors on one account? 
No problem! After you setup the first driver, add the additional drivers in. These will automatically read the account information from the first to speed up the installation process.
I have multiple myQ accounts for one Control4 system, can I do this? 
Of course – simply change the username/password to match the account you need. Then select the garage door from the Motors list. 
I love the Push Notification, but I want to make my own – how do I do this? 
To turn off the automatic push notification, change the setting Use Push Notification to 'off.' Then use Composer Events and Actions for your specialized push notification.
What is the difference between the standard Garage Agent and the one with LiftMaster? 
The original driver is designed for generic garage doors where the dealer is using a standard relay. The Garage Agent with LiftMaster driver streamlines the installation of LiftMaster into Control4 by providing a single driver for all communication and installation.
Where can I get support if I have an issue?
If you have questions or issues with the driver or integration, please go to https://help.drivercentral.io and submit a ticket.
Do you offer showroom discounts? 
All Cinegration Development drivers support the DriverCentral showroom project.
Can I try this driver out before buying it?
All Cinegration Development drivers for Control4 come with a 7-day trial. Simply add the DriverCentral licensing driver along with this driver an d you can fully test the driver before purchasing. 
Driver is provided by Cinegration Development LLC.  All rights reserved.
Driver: Garage Agent with LiftMaster
Compatible Control4 Systems:  2.9.1
Compatible Hardware: LiftMaster MyQ Garage Doors
Developed by: Cinegration LLC.  www.cinegration.com/drivers
Change Log: https://www.drivercentral.io/platforms/control4-drivers/utility/garage-agent-liftmaster/
Setup
Setup LiftMaster units with LiftMaster Account/App, test and verify functionality prior to integrating
Add driver to project
Enter username + password
Choose Motor and Choose Sensor style

myQ will use myQ status.  This is polled and should ONLY be used if no garage sensor is installed.

Make Contact bindings (if needed).  Note: It is not required to add a garage door sensor to the project.  All Control4 interfaces will have access to icon.
Change Icon Style to match Motor Type (see table below)
Icon Style: Driver has different icons that can be used to customize the installation.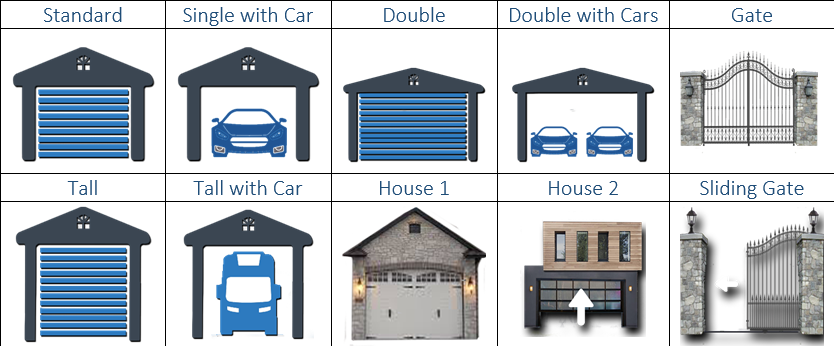 Single/Double Tap Action:
Trigger Door -> Will trigger the movement of the door
Only Open and Only Close Door -> Will only move door that direction.
Toggle Door Control -> Will disable the icon from being used (ex. AirBnB Tenants)
Set door Alert Snooze to xx Hours -> Will trigger the snooze timer for that amount
Garage Left Open: The driver has a built-in timer for notifications when the door has been left open.  By default, this is a 20-minute timer and will send Push Notification and Popup on touchscreens when timer expires.
Failed to Open/Close: When the user presses the icon, the door will open or close accordingly.  If the door does not reach its desired state, an Alert will be sent via Push Notification or Text notification (if setup) alerting customer of failed event.
Push Notification:
  The driver supports automatic push notification using the Control4 app.  This will send notifications to be registered MyHome devices.  For notifications to work, homeowners must have the Control4 app on the phone and notifications enabled (see below) 
Configure Customer.Control4.com Account:
1. Go to customer.control4.com to log into customer account.
2. Once logged in go to "My Notifications" under "My Devices"
3. Select a mobile device you want to receive notifications on.
4. These devices are all devices that have been connected to the customer account using the Control4 App.
5. Configure specific areas category and severity of notifications.
6. "Save" configuration before continuing.
Notifications used in Driver:
Informational Level: Garage Door Open/Close Events
Alert Level: Failed to Open/Close, Door left open
Critical Level: None
About Driver Notes:
     Make sure garage door is safe to move before using driver.  DO NOT close or control garage door if unsafe to do so.
     This driver contains code written by Cinegration LLC.  Any modification to this driver without the express written permission or without the express consent by Cinegration will void all warranties, constitute a ban on all drivers released by Cinegration and potentially legal action.
     This driver has been designed to work with Control4 2.9.1 and higher Control4 systems.
Warranty:
      Cinegration strives to provide fully working drivers without defects.  However, changes and bugs may be found.  Because of this, any bug/maintenance update to this driver will be free of charge. However, due to the ever-changing nature of computer and audio/video systems, if a new version of the Control4® software or API changes create issues or new features are added, a new or updated version will be provided for an additional expense or free as determined by Cinegration.
1007 (7.2.2019)
Added new icon styles
Added Invert Contact state to driver
Corrected issue where Composer Variable: GARAGE_CONTACT_STATE didn't work
1005 (6.6.2018)
Fixed issue with motor property not being shown after reboot
Fixed issue with sensors that have UNKNOWN state
Fixed issue with Security Token not properly tracking
Improved check-in of driver to server
Fixed issue with certain liftmaster hubs not working
1003 (5.15.2018)
Add additional icon styles
Added Only Open/Close options for icon
Updated LiftMaster polling for better communication with server
Added internal broadcasting via the driver for better communication with server
Added Calibration Action for Up and Down travel times
Improved Auto Setup
1000 (5.2.2018) - Initial Release