With the Garage Agent driver, customers can control garage doors and motorized gates with ease in Control4! Integrating garage doors into Control4 is now a simple, streamlined process. This driver does not require a site visit for integration, making installation even easier!
Garage doors and motorized gates can be controlled with the press of a button via the Control4 platform or a customer's smartphone. Alerts and Notifications are automatically sent during failures and left open events. Dealers can customize how these events gets setup in seconds. If there is a camera looking at the garage door, the driver will automatically send a snapshot from that camera when the alert is sent. New icons visually communicate the state of any garage door – ex: opening, open, closing, closed, etc. The driver even contains a variety of garage door types to best fit your customer's home. Choose from a graphic-style garage, a lifelike home garage, a modern home garage, gates, etc.
To save money and add other cool features to your projects consider purchasing as part of the Agent Bundle.


- Creates a faster way to control garage doors or gates
- Automatically adds icon to all Security pages
- Icon updates dynamically when different states are triggered
- Customize the icon with optional Icon Styles!
- Works with all existing Control4 garage integrations
- Disable/Enable control of garage door
- Safety Action when door is about to close
- Notification and Alerts are automatically created
- Works with History Agent


Garage door or motor that uses a relay to open and close and contact sensor connected for door status
 


Functional with 2.9.1+ though certain features are designed specifically for 3.0+


Many Cinegration Development LLC drivers come with customizable icons, including the Garage Agent. If you would like your own custom icons loaded into the driver, please email: drivers@cinegration.com. We can create customized icons that will provide the final style touches to your projects. For this, please send a sample picture or include a description of how you would like the icon to look. We would gladly load it into the driver for you for a fee.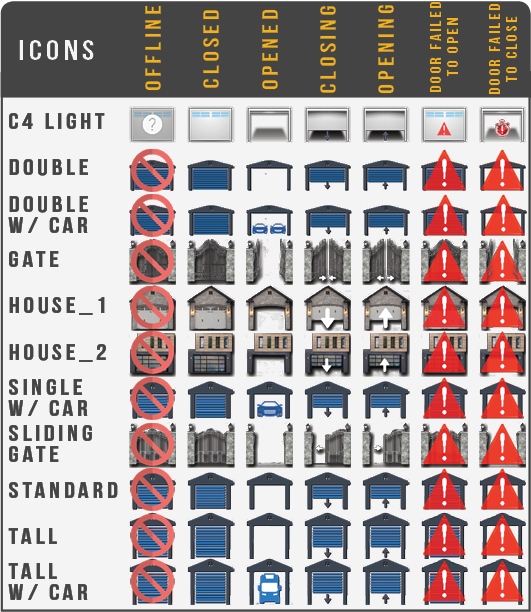 A single license will unlock as many instances of the driver as needed in your project. Cloud Driver is required to activate all DriverCentral licenses and trials. To find out more about drivercentral features click here. Additionally, here is a quick video that demonstrates the licensing process.


All Cinegration Development drivers for Control4 come with a 7-day trial. Simply add the DriverCentral licensing driver along with this driver and you can fully test the driver before purchasing. Including Cinegration Development drivers in your showroom project will give you unlimited use without purchase.
Driver is provided by Cinegration Development LLC.  All rights reserved.
Any Experience With This product?
Share it with others to help them make the right choice
Write a review

Click
here
to access the full installers guide that includes driver setup instructions as well as driver feature details.
Integrating with LiftMaster MyQ 2.0 Garage Doors?  Click here for information on how to integrate these

For a full description of terms and conditions pertaining to Cinegration Development's drivers please visit 
www.cindev.com/terms-and-conditions
20221220

MAJOR UPDATES (Documentation, Notifications, Added Features)

20220617

20220314

Fixed issue where dealer could not change Icon Style

New documentation format

Add LuaJIT support

20220218

Update to support future Control4 releases

General improvements/updates

1088

Fixed issue if ALERT (Failed to Open/Close) occurs and the Voice Agent was installed, the driver would trigger the Speaker Announcement instead of the Touchscreen announcement by default.

1086

Fixed issue where after a reboot the open/close led colors would default

Improved Safety Alert programming

1083

Added Open / Close button link keypad connections

Improved Button Color setting

Fixed typos on Composer events

Removed Driver Action: Refresh Agents (now automatic)

1079

Fixed type on stop alert

1078

Updated backend code to latest package releases

Added Feature: Enable and Disable Garage Control (Execute via Composer Driver Action)

Added Feature: Integration with Control4 Aladdin Master Connect.  This driver replaces the Garage driver provided with the Aladdin Master Connect.

1065

Improved safety light feature
Improved camera snapshot feature

1060

Link with Agent Bundle
Added button_link connection for simple keypad programming
Significant performance and code update
Added camera snapshot to notifications

1011 (5.10.2019)

Added new icon styles
Update of main agent framework code
Added Invert Contact state to driver

1007 (10.27.2018)

Added icon styles
Added Cinegration Automatic email and text programming
Added camera snapshot into email/text
Added icon refresh to help Navigator bug where custom icons do not appear when homeowner first opens Control4 myHome app

1003 (3.13.2018)

Added Momentary and Latch style relay control
Added Pulse Length for momentary relay control
Added addtional relays for Up and Down movements for certain types of garage door openers

1002 (1/2/2018)