A better way to integrate garage doors into Control4!
Overview
The Control4 Home Automation system can control nearly all aspects of a customer's smart home. With the Garage Agent driver, customers can control garage doors and motorized gates with ease in Control4! Integrating garage doors intro Control4 is now a simple, streamlined process. This driver does not require a site visit for integration, making installation even easier!
 Garage doors and motorized gates can be controlled with the press of a button via the Control4 platform or a customer's smartphone. Alerts and Notifications are automatically sent during failures and left open events.  Dealers can customize how these events gets setup in seconds.  If there is a camera looking at the garage door, the driver will automatically send a snapshot from that camera when the alert is sent. New icons visually communicate the state of any garage door – ex: opening, open, closing, closed, etc. The driver even contains a variety of garage door types to best fit your customer's home. Choose from a graphic-style garage, a lifelike home garage, a modern home garage, gates, etc.
 Security Page on Control4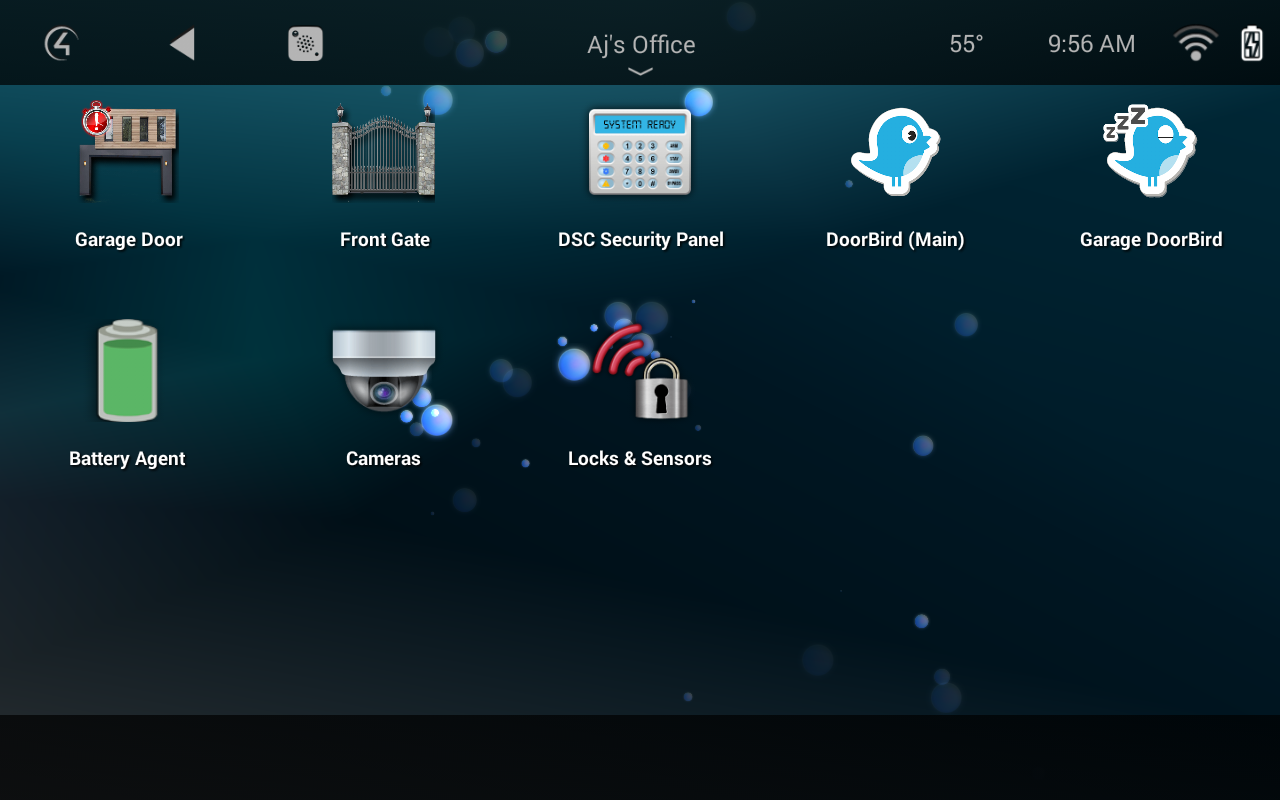 Features
Creates a faster way to control garage doors or gates
Automatically adds icon to all Security pages
Icon updates dyanmically when different states are triggered.
Single Driver installation for each door
Customize the icon with optional Icon Styles!
Works with all existing Control4 garage integrations
Using with LiftMaster myQ?  We made a driver for for myQ: Click Here
Disable/Enable control of garage door
Saftey Action when door is about to close

Garage Lights will flash for 10 seconds before garage door begins to close.
Create announcement to alert when the garage door begins to close 'before' it starts closing

Notification and Alerts are automatically created.

Email, Text, Push Notification, Touchscreen Alerts are automically created when driver is installed.
Snapshot from any Control4 connected camera can be linked to driver!  Now get a image when then garage door is left open!
Alerts when the garage doesn't close or open when it was supposed to.  
Email and Text alerts DO NOT require 4Sight!

Works with History Agent
Requirements
This driver is compatible with Control4 2.9.1 or higher. A strong network connection is required to effectively utilize this driver.
FAQ
What does this driver control? 
This driver allows a dealer to fully integrate generic garage doors and motors.  Using standard relay/contact style control
What hardware do I need? 
You will need a garage door or motor that uses a relay to open and close and contact sensor connected for door status
Do I need to add a Garage Door Sensor Driver in Control4? 
No, this driver will give customers a better garage door experience directly from the security tab!
What if I only want the garage door to close when I press the icon?
Choose the 'single tap' or 'double tap' action and select 'only close'. 
How do I disable the driver when people are renting my home?
You can either choose the 'double tap' action and select 'Toggle Door Control' or create an IF/THEN setting while programming the driver and select IF (insert scenario here), THEN 'Disable Garage Control.' 
How do I change the icons on the Control4 GUI?
Use the Icon Style drop-down in properties and select the best icon for the door.  Below are the different icons you can choose from.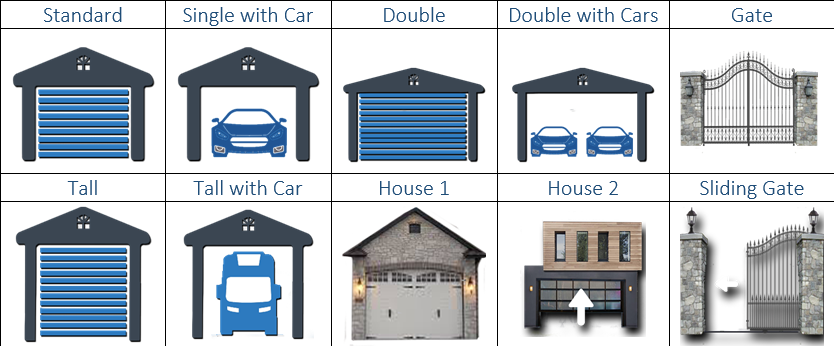 Can you make different icons? 
Sure! If you want to have a custom icon loaded in, please email: drivers@cinegration.com. We can create custom icons that look like the customers' specific garage door. For this, please send a picture of the garage door closed and open. Otherwise, please include a description of how you would like the icon to look. We can load it into the driver for you for a fee.
What if I have multiple doors at one home?
No problem! You can have as many garage agents per project.
Do I have to program alerts?
The driver will automtically send alerts via Control4 Push Notification or Email/Text.  Email/Text notifications do not require Control4 4Sight and are not using the email agent in Control4.  Push Notifications require Push Notification agent to be installed (alerts are created automatically).  Dealer will need to enable homeowner notifications via: customer.control4.com.


What is the difference between the standard Garage Agent and the one with LiftMaster? 
Garage Agent is for generic garage doors where the dealer is using a standard relay and contact method. The Garage Agent with LiftMaster driver streamlines the installation of LiftMaster into Control4 by providing a single driver for all communication and installation.
Where can I get support if I have an issue?
If you have questions or issues with the driver or integration, please go to https://help.drivercentral.io and submit a ticket.
Do you offer showroom discounts? 
All Cinegration Development drivers support the DriverCentral showroom project.
Can I try this driver out before buying it?
All Cinegration Development drivers for Control4 come with a 7-day trial. Simply add the DriverCentral licensing driver along with this driver and you can fully test the driver before purchasing. 
Driver is provided by Cinegration Development LLC.  All rights reserved.
Compatible Control4 Systems:
2.9.1, 2.10.x
Compatible Hardware:
Any garage that is connected to Control4 using the contact and relay binding.
Setup:
Add driver to project
Make Relay and Contact bindings
Set Notification Settings

These email address can be text messages using proper MMS email address
Choose Camera for snapshot image to be included automatically in email

Verify/Review Settings, Refresh Navigator and test
About Driver Notes:
 This driver allows better control of a garage door. Make sure garage door is safe to move before using driver. DO NOT close or control garage door if unsafe to do so.
 This driver contains code written by Cinegration LLC. Any modification to this driver without the express written permission or without the express consent by Cinegration will void all warranties, constitute a ban on all drivers released by Cinegration and potentially legal action.
Warranty:
Cinegration strives to provide fully working drivers without defects. However, changes and bugs may be found. Because of this, any bug/maintenance update to this driver will be free of charge. However, due to the ever-changing nature of computer and audio/video systems, if a new version of the Control4® software creates issues with this driver, or feature enhancements, an upgrade version will be provided for an additional expense or free as determined by Cinegration.
1011 (5.10.2019)

Added new icon styles
Update of main agent framework code
Added Invert Contact state to driver

1007 (10.27.2018)

Added icon styles
Added Cinegration Automatic email and text programming
Added camera snapshot into email/text
Added icon refresh to help Navigator bug where custom icons do not appear when homeowner first opens Control4 myHome app

1003 (3.13.2018)

Added Momentary and Latch style relay control
Added Pulse Length for momentary relay control
Added addtional relays for Up and Down movements for certain types of garage door openers

1002 (1/2/2018)