Many homes and offices use UniFi network equipment to provide reliable internet connectivity and control. With the Cindev UniFi Network Controller driver, customers can harness this power through their Control4 systems! The UniFi Network Controller and included companion control drivers provide a specialized set of tools to give your customers the alerts and control they want. Homeowners will have PoE port control, Client access, WiFi management, and integrated speed test monitoring from any Control4 interface.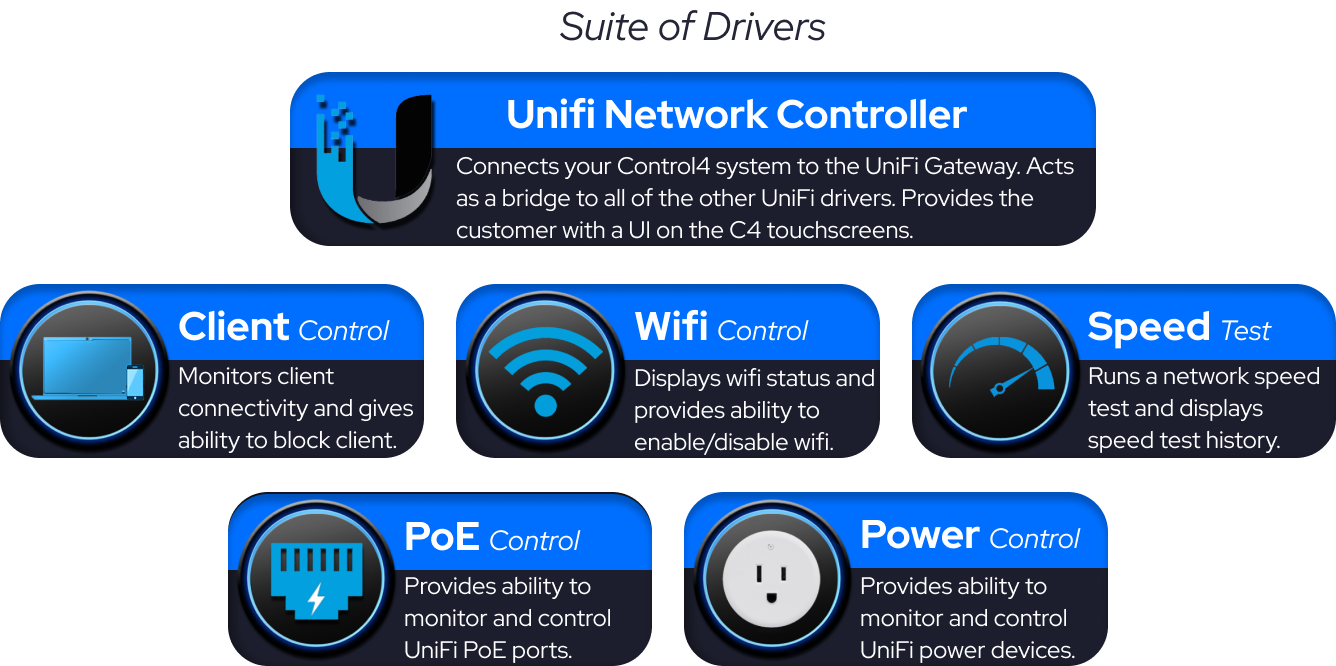 Perform Network Actions from Composer Programming
Turn on/off/cycle PoE ports on any UniFi PoE switch
Block/Unblock Network access to clients
Change Port configuration (Change VLAN)
Enable/Disable WiFi via SSID name
Run speed test, turn on/off auto test, and adjust interval between auto tests
Control UniFi Power devices (Power Plug)
Send smart notifications (Push/Email/Text/Voice/Popup)

New Network client discovered
WiFi enabled/disabled
Network client is blocked/unblocked

Event-based search (Network Client IP, NAME, or MAC address)

Supports Cinegration Trial and Showroom licenses

 

With the Control4 T3/T4 touchscreens customers can access network events, devices and clients in realtime.  Discover the Power of Control with UniFi and Control4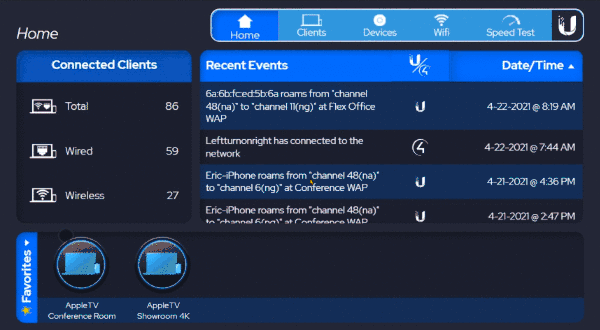 Here are some screenshots of notifications that come pre-built into the driver.






Functional with 2.10.6+ though certain features are designed specifically for 3.0+
 


A single license will unlock as many instances of the driver as needed in your project. Cloud Driver is required to activate all DriverCentral licenses and trials. To find out more about drivercentral features click here. Additionally, here is a quick video that demonstrates the licensing process.


All Cinegration Development drivers for Control4 come with a 7-day trial. Simply add the DriverCentral licensing driver along with this driver and you can fully test the driver before purchasing. Including Cinegration Development drivers in your showroom project will give you unlimited use without purchase.
           
Driver is provided by Cinegration Development LLC.  All rights reserved.

To access the full installers guides that include driver setup instructions as well as driver feature details select the following;
unifi_network_controller_documentation
unifi_client_control_documentation
unifi_poe_control_documentation
unifi_power_plug_documentation
unifi_speed_test_documentation
unifi_wifi_control_documentation
For video instructions select the following:
unifi_network_controller_video


For a full description of terms and conditions pertaining to Cinegration Development's drivers please visit www.cindev.com/terms-and-conditions
20230413

Fixed issue where PDU Pro outlet names would be defaulted when toggling

Added additional realtime monitoring events (QoS Profiles, Network Name Changes)

NEW FEATURES!

Added ability to apply a WiFi QoS profile to a client. Use this to block wifi clients access to a network

Added ability to pause/unpause an entire VLAN. WiFi client driver also has a new connection (UNIFI_NETWORK) for easier integration

Added new UI/Event Actions! Each child driver (PoE, WiFi, Power, Client) now have event action options for Control4 History Agent trigger

Added Voice Agent support for direct Sonos announcement playing including volume level

20220816

Fixed Touch screen dashboard not loading

Improved Driver Action View Status

Improved documentation

General updates/improvements

20220420

Added LTE Backup events (internet failover started, restored)

 driver now can send multiple port changes at the same time to a unifi device.  You do not need to put delays between poe/port config actions anymore

driver now properly names power outlets (UP1)

package updates

20220228

Update to support future Control4 release

Improved documentation

20220118

Fixed login issue with 6.5.55+

Improved locale related issues

Downgraded default NEW_CLIENT alert to No

20211102

Updates to correct Control4 JSON package

Fixed Cycle notification on PoE

Improved Client driver with better dealer tools

Fixed issue with client names with special characters ([*/;)

Fixed issue where phantom clients would be found even though they never had an ip address

Fixed issue (2.10.6) where certain names in json would cause an error

 20210609

Added Rebooting of UniFi network devices from Control4 programming

General improvements and updates

Added Default Client timeout adjustment as a global parameter

Fixed issue where multiple notifications at the same time occur then only one would get sent.  Now each gets sent according to event rules

Improved offline client notifications

Fixed V1 API realtime data error

Fixed lua error on some projects where client did not have a last seen value

Fixed issue where Notify Offline (Service) was not saving

Improved wss connection timeouts and reconnect

 20210428