Monitor and receive alerts of who logs in to your Control4 systems. This driver will actively monitor logins to your Control4 composer project and provide alerts both for local connection and remotely connected systems.
To save money and add other cool features to your projects consider purchasing as part of the Agent Bundle.


- Get Push, Email, Voice alert and other notifications when someone logs into a Control4 system via Composer
- Send yourself an email when an employee logs into a project
- Whitelist certain account names that will log but not notify you when they login
- Icon for login status and information about logins


Designed specifically for 3.0+




Many Cinegration Development LLC drivers come with customizable icons, including the Login Agent. If you would like your own custom icons loaded into the driver, please email: drivers@cinegration.com. We can create customized icons that will provide the final style touches to your projects. For this, please send a sample picture or include a description of how you would like the icon to look. We would gladly load it into the driver for you for a fee.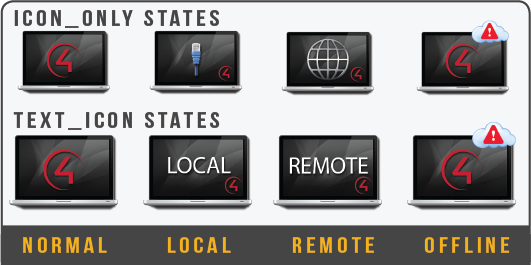 A single license will unlock as many instances of the driver as needed in your project. Cloud Driver is required to activate all DriverCentral licenses and trials. To find out more about drivercentral features click here. Additionally, here is a quick video that demonstrates the licensing process.


All Cinegration Development drivers for Control4 come with a 7-day trial. Simply add the DriverCentral licensing driver along with this driver and you can fully test the driver before purchasing. Including Cinegration Development drivers in your showroom project will give you unlimited use without purchase.
            
Driver is provided by Cinegration Development LLC.  All rights reserved.

Click
here
to access the full installers guide that includes driver setup instructions as well as driver feature details.

For a full description of terms and conditions pertaining to Cinegration Development's drivers please visit 
www.cindev.com/terms-and-conditions
20221220

MAJOR UPDATES (Documentation, Notifications, Added Features)

20210725

Improved documentation

Added logged in for value to LOGGED_OUT event

Improved tracking of composer users

 20210724

Changed NORMAL state to ALL_LOGGED_OUT

Added LOGGED_OUT (each user logged out will trigger this alert)

Fixed controller hang on CA10 projects

General framework updates

Improved user login/logout monitoring

Converted to lua JIT

Fixed XML load issue (info driver did not work)

20210712

Added protection for future Control4 updates

Added protection if controller doesn't have IP address after driver loads

Added protection for multiple instances of driver installed on a single project

1076

General code improvements

Added support for the CA10

1064 (10.2019)

Agents improvements, updates

1062 (9.2019)
1056 (9.2019)
1055 (9.2019)