Every home has a doorbell, and now doorbells can be easily integrated into the Smart Home. The Doorbell Agent provides alerts and automatic popup notifications on a Control4 system. To integrate a doorbell, dealers need to customize what occurs when the doorbell is pressed and build special events when the doorbell should be on/off. This driver speeds up programming, provides announcements, and allows the customer to turn on/off the doorbell from any Control4 MyHome interface.
Doorbell Agent will be shown on the Security Page:
| | | |
| --- | --- | --- |
| Normal State | Pressed State | Silenced State |
|   |   |   |
Features
Works with any standard doorbell integration into Control4 (sensor trip)
Events for Pressed, Silenced, and Unpressed
Automatically adds doorbell icon to all Security pages
Simple Notification menu; choose how to notify the customer when the 'doorbell pressed' event occurs
Icon updates dyanmically when different states are triggered
Automatically displays popup with camera image on Control4 touchscreens
Notification and Alerts are automatically created

Email, Text, Push Notification, and Touchscreen Alerts are automically created when driver is installed.
Snapshot from any Control4 connected camera can be linked to driver! Now get a image when the doorbell is pressed!
Email and Text alerts DO NOT require 4Sight!

Works with History Agent
Requirements
This driver is compatible with Control4 2.9.1 or higher. A strong network connection is required to effectively utilize this driver.
FAQ
What does this driver control? 
The Doorbell Agent creates a doorbell icon and pre-loaded notification features including camera snapshot image when doorbell is pressed.
What hardware do I need? 
Doorbell button integrates into a Contact sensor into Control4. For camera images, a Control4 connected camera is required.
Do I need to add a Doorbell Sensor Driver in Control4? 
No, this driver will give customers a better doorbell experience directly from the security tab!
I want to silence the doorbell, how do I do that?
By default, pressing the icon will silence the doorbell alert for 2 hours. Pressing the icon again will return the doorbell to normal. 
How do I change the icons on the Control4 GUI?
Use the Icon Style drop-down in properties and select the best icon for the door.
What if I have multiple doorbells at one home?
No problem! You can have as many doorbell agents as are doorbells per project.
How do the alerts work?
Cinegration has developed a multi-alert system. Customers can be alerted via Control4 Push Notification, Email, or Text Message. Text and Email messages can also include a snapshot image from a camera attached to the Control4 system. To send a Push Notificaiton, the customer will need to inlcude their phone in the Alert Level warning of Security: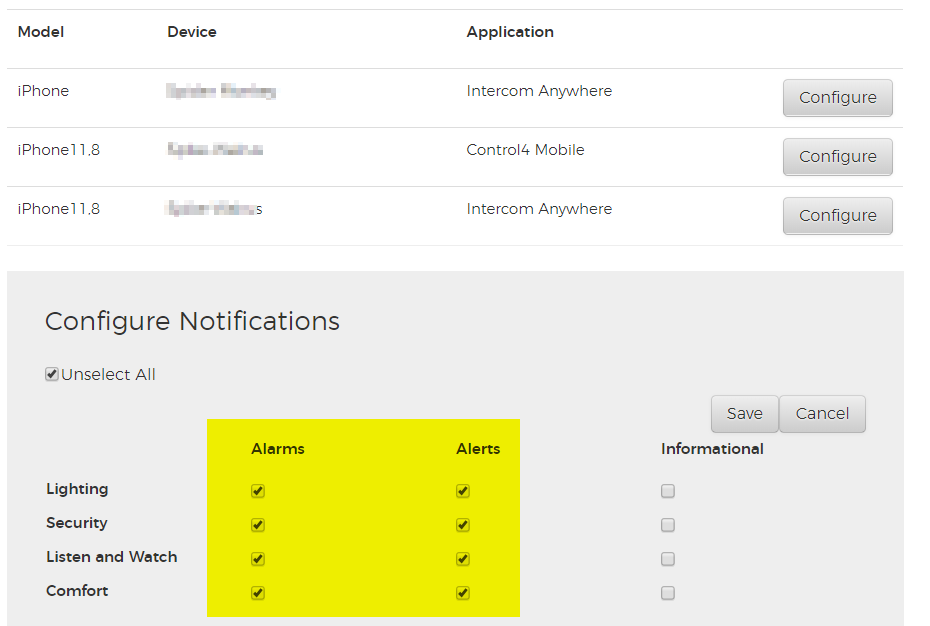 For Email, the dealer will enter the email address (or multiples using a ; delimited list). For Text, enter the phone number of the customer in the Email section followed by the correct carrier domain. 
NOTE: Verizon does not allow sending MMS via this method with our email service. Only SMS (no picture) alerts are allowed.
AT&T: number@txt.att.net (SMS), number@mms.att.net (MMS)
T-Mobile: number@tmomail.net (SMS

 

& MMS)
Verizon: number@vtext.com (SMS)
Sprint: number@messaging.sprintpcs.com (SMS), number@pm.sprint.com (MMS)

Where can I get support if I have an issue?
If you have questions or issues with the driver or integration, please go to https://help.drivercentral.io and submit a ticket.
Do you offer showroom discounts? 
All Cinegration Development drivers support the DriverCentral showroom project.
Can I try this driver out before buying it?
All Cinegration Development drivers for Control4 come with a 7-day trial. Simply add the DriverCentral licensing driver along with this driver and you can fully test the driver before purchasing. 
Driver is provided by Cinegration Development LLC.  All rights reserved.
Driver: Doorbell Agent
Compatible Control4 Systems:  2.9.1, 2.10.x
Compatible Hardware: Any doorbell that is connected to Control4 using the contact binding.
Setup
Add driver to project
Make Contact bindings
Set PRESSED actions including text or email notification.

These email address can be text messages using proper MMS email address
Choose Camera for snapshot image to be included automatically in email
Driver States
Offline (Driver Disabled or Trial Expired), Normal, Pressed, Silenced

About Driver Notes:
     This driver contains code written by Cinegration LLC.  Any modification to this driver without the express written permission or without the express consent by Cinegration will void all warranties, constitute a ban on all drivers released by Cinegration and potentially legal action.
Warranty:
      Cinegration strives to provide fully working drivers without defects.  However, changes and bugs may be found.  Because of this, any bug/maintenance update to this driver will be free of charge. However, due to the ever-changing nature of computer and audio/video systems, if a new version of the Control4® software creates issues with this driver, or feature enhancements, an upgrade version will be provided for an additional expense or free as determined by Cinegration.
 1003

Snapshot now included in Test Email
Improved Snapshot for cameras

 1002

Improved Snapshot retrieval with Axis and Hikvision cameras 

 1001

Added camera support for Luma/WirePath

 1000