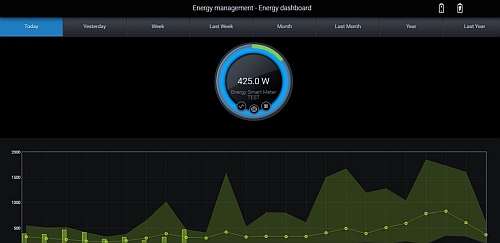 This is the Super Gateway Energy Meter interface (SGEMi) generated by Adeo Control Super Gateway and developed for Control4 touchscreen.
Overview
SGEMi provides a very intuitive way to monitoring the power consumption and power production.
SGEMi is html based on and available for any kind of browser.
The Customer can have a daily, weekly and yearly history. Moreover, he can set the threshold power to receive any notification.
The Adeo Control Energy Meter Driver allow to show the SGEMi as a html web page on Control4 touchscreen.
Adeo Control4 provides a Energy Meter connected to Super Gateway by USB connection. It is usefull to detect the total energy consumption (or production). But you can also use third party KNX or Modbus Meter.
SGEMi can use Super IO and Super Plug outputs to switch off any kind of loads when the power consuption is over threshold set from the Customer.
Adeo Control for Control4 Smart Home Pro!